stripped posting in

severalplums
I created this image in PS CS4 on a Mac. I had originally created it without text, but it looked unanchored that way, so I added the text at the bottom as a last minute decision.
This is the original crop:

The image was dark and pretty blue overall, so I decided to take it to black & white. I added an adjustment layer for b&w:

That big black space just called to me to put something in it, so I masked it out and went hunting for an image of Ten, so I could have him looking over Eleven's shoulder. Once I found it, I cropped it with some trial and error, resized that crop to 75x75, and pasted it into the masked space and wiggled it around until it looked right. Since I wanted Ten in color, I put that layer above the b&w adjustment layer. I gave Ten an opacity of 70% so he faded into the background a bit.
The original Ten image: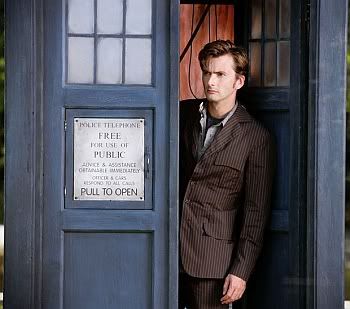 The image with Ten pasted in:

Then I started playing with masks. The mask I use came from
Mutsie's Brushes
. I used a top & bottom mask, and then added a gradient fill layer with a b&w gradient at an angle of 122 degrees.

The font for the text is from
Fonts for Peas
, and is Pea Cassie, in 8pt, in black.
And there we go, done!